Hoverboards are a great way to get the kids outdoors, but younger kids may feel left out because they may not have the experience to ride them on their own. If you think it might be difficult for your child to control the hoverboard on its own, perhaps you can try it with a hoverkart. With the hoverkart bundle, it turns your hoverboard into a go-kart. This bundle can easily attach and detach from the hoverboard giving you options to use it with or without.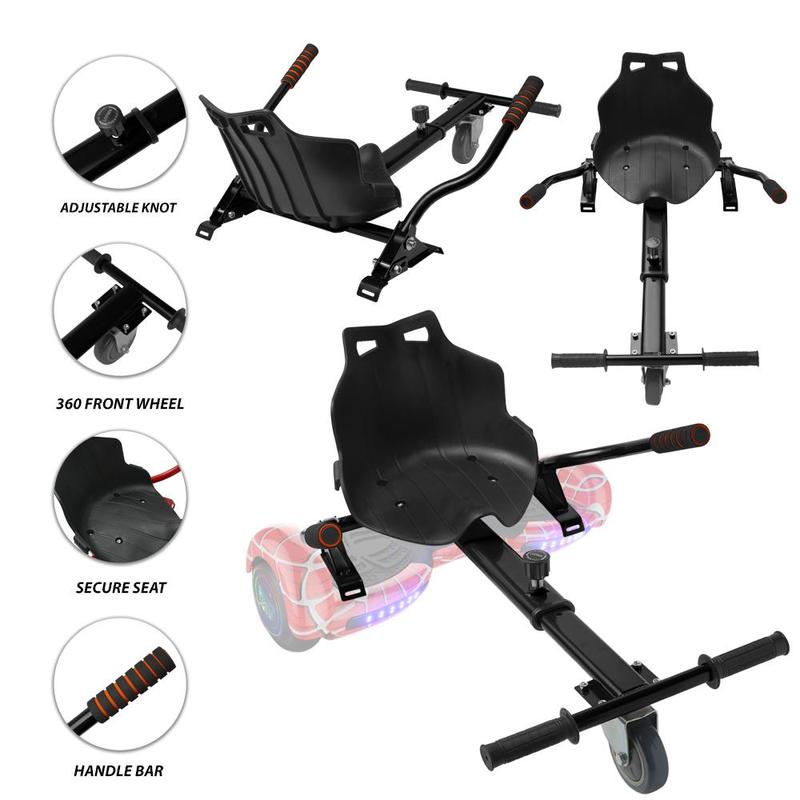 Secondly,
You will be able to ride your hoverboard much more easily and your hoverboard will remain untouched. Since you don't have to worry about bumps or potholes, you can go the speed you want on your board. In addition, it feels a lot faster than standing, because you're inches from the ground. Utilizing the handles and your feet, you can drive this hoverboard with seat attachment. The hoverkart can be use on or multi-terrain surfaces like over grass, gravel, and packed sand.
You have to assemble and fit the hoverkart over the board to allow it to turn into a go-kart.It is make of a strong metal frame to ensure the safety of the user when riding on the hoverboard. Attach the bracken mount and the hoverstraps to the bar located in the center of your hoverboard when you're ready to use it. Carefully follow the following steps on the manual when assembling your Hoverkart. Please make sure that all parts of the segway go karts are assemble correctly and securely as failure to do so will increase the risk of injury. A good tip would be to put your hoverboard on a charge while assembling the hoverkart.